How Lynsey G & Jayel Draco of Oneshi Press Hired a PR Firm and Beat the Algorithms
by Clay Adams
Lynsey G and Jayel Draco of Oneshi Press were threading a fine needle.
Their TRACY QUEEN series is very much Not Safe for Work. Although the story is full of heart and touches on some very important topics, the book contains some nudity and adult situations.
Because of that, the two creators felt limited in how they could talk about the book on social media and in ads—after all, they had to beat the algorithms, which clamped down on such content.
So how would they reach the audience they knew would love it? How would they locate podcasts, websites, and other creators willing to help promote the book?
And as launch day grew nearer, they found themselves wondering…
How sexy is too sexy?
---
In this edition of the ComixLaunch Spotlight, you'll learn:
how to promote a NSFW comic without getting banned on Facebook

the benefits of working with a PR service for your comics Kickstarter

the most important thing for growing your comics brand
---
How to Advertise a NSFW Comic Without Getting Banned From Social Media
TRACY QUEEN grew out of co-creator Lynsey G writing journalism about adult entertainment for over a decade. And one reality she's seen that industry deal with is that online platforms censor their content.
Using certain words means your content gets seen by fewer people and might even get you banned. Especially on Facebook and Instagram, where the pair planned to run ads.
"We did NOT want to be battling all of that just to get our campaign seen! So, we carefully avoided using certain terminology on the Kickstarter page itself, using sly codes and workarounds for some of the content. We also made sure all imagery on the page was non-explicit. We want people to feel comfortable looking at it anywhere!"
That being said, the series is about a woman who makes…er…smut for a living. As such, the adult, NSFW parts of the story were integral to the character and the plot, and Jayel and Lynsey didn't want anyone to walk away from the Kickstarter unaware of that, because they didn't want someone to end up surprised by what's inside the book. So the pair grappled with how to present a NSFW comic without overtly objectifying the main character.
"We didn't want to make it TOO sexy, but we also didn't want to make it not sexy ENOUGH. In the end, we've found that portraying Tracy as what we call a 'sex subject' instead of a sex object has helped us find people who are interested in her story as well as her sex appeal. We're not reaching a huge amount of low-tier backers who go for the low-hanging fruit; instead we seem to be attracting backers who are willing to back at higher levels, presumably because they're more deeply hooked."
But it wasn't all self-censorship on Jayel and Lynsey's part. They were also advised to tone down the sex and drug references from an outside source…
Their publicist.
How to Work with a PR Service for Your Comics Kickstarter
For this campaign, Jayel and Lynsey wanted to widen their net with not just more media outlets, but BETTER media outlets.
"Working with a publicist is a move that we've been wanting to make for a few years. We set money aside for it specifically for this campaign, since we'd already established a baseline for what we could do ourselves over the previous two issues. Otherwise, it might be difficult to tell what kind of impact the PR help really had, since so much of it goes on behind the scenes and isn't easy to track."
They originally approached a PR firm they'd heard recommended in the ComixLaunch course. That company was unavailable for TRACY QUEEN'S projected time frame, but they recommended some colleagues. Additionally, Lynsey and Jayel turned to the ComixLaunch community and their personal networks for suggestions.
"All three of those feelers we put out came back with the same answer: Melissa Meszaros at Don't Hide PR! Since she'd come with such strong recommendations, we reached out to her, scheduled a voice chat, and discovered that we shared the same values and ideas. Don't Hide PR has taken on some of the heavy lifting of putting together a press release, getting it out to a quality media list, and following up on leads. Running a Kickstarter campaign keeps us busy enough without doing all of that extra legwork, so it's been nice to leave some of that to Melissa. She's booked us some fantastic podcast appearances with really great interviewers, and gotten our press release and campaign featured on more media outlets than we normally hit."
The service was an investment in their future, all part of their strategy for growing the Oneshi Press brand.
The Biggest Challenge To Reaching the Next Level of Success
"One of our biggest challenges moving forward is one that we've faced in the past at nearly every stage of growth in our business. To take things to the next level, you need the tools that the next level requires of you, and those tools aren't necessarily available on the level you're at."
What the pair describes is a classic Catch-22: you need more resources to raise more funding, but you need more funding to afford the resources.
"So the answer might be finding the right grants, or taking on a partner, or building a crew of cyborg-clones…We'll see. Covid-era SBA grants and loans have been a lifesaver, but we've also begun researching larger private grants and are looking into hiring grant writers to apply for us."
Cyborg clones and outside help aside, their biggest strategy for growth involves looking inward:
"We're planning to reach that next level on Kickstarter by continuing to learn and grow ourselves."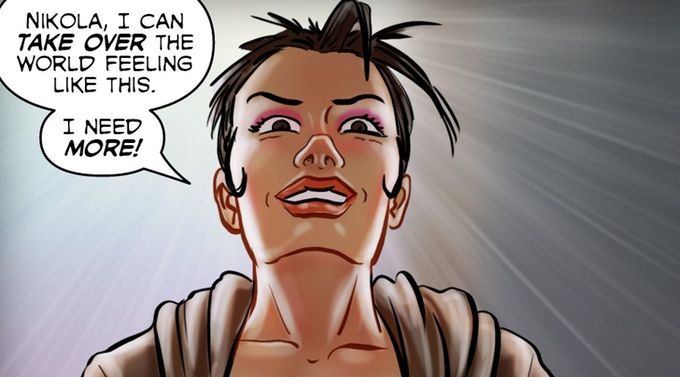 The Most Important Thing For Growing Your Comics Brand
When Lynsey and Jayel look back on their work history, they see long and storied CVs full of jobs they took just as much--if not more--for the experience than the pay.
"That's not to say that we didn't need the money so much as we realized that the money we took home was already spoken for, whereas the knowledge was ours to keep. We've both read many books, blogs, and journals, listened to many podcasts, and taken many classes pertaining to the various aspects of our combined pursuits that make up Oneshi Press."
In taking the ComixLaunch course and joining the Mastermind group, they chose not to rush through and skim for tips and tricks on how to fund a campaign. Instead, they took their time, looking to get as much out of the classes as they could while trying to apply those lessons to a broader spectrum of scenarios.
They have fun talking about the things they've learned, both with each other as well as their ever-growing network of competent and experienced creators.
"As long as we carry with us that thirst for knowledge in everything we do, adapting and expanding our ideas and tactics isn't some painful task; it's automatic. We're continuing to digest the ComixLaunch course, while getting as much as we can from being part of the Mastermind group. We've got a range of classes from Russell Nohelty bookmarked on our to-do list, as well as some other classes from various sources."
What's Next?
In the end, TRACY QUEEN funded in about a day, and Jayel and Lynsey had their best first week ever. In addition to funding the book, they've also unlocked a few merchandising options they've been wanting to try for a while now, like minifigs, action figures, variant covers, and funko pops.
So, what's next?
"Cyborg-clones, of course! Also, we have a series of Kickstarters planned for this year that center around our fictional coffee brand, TarMucks. It's Tracy Queen's preferred corporate coffee chain, Patience from PACK's least-favorite brand, and it comes from the world of Mr. Guy: Zombie Hunter. We're going to tie all these series together with a new TarMucks project this summer!"
---
Connect with Lynsey and Jayel:
Website:
Social Media:
Twitter: @oneshipress
Instagram: @oneshipress
Facebook: @oneshipress
Freebies:
The first two chapters of Tracy Queen's epic, out-of-the-box, no-holds-barred graphic novel about one woman's journey from a life of violence to one of pleasure, with her talking-racoon BFF by her side, takes readers for a wild ride!
---
Would You Like to Learn the Strategies Lynsey, Jayel and Other Talented Creators are Using to Take Your Launches to the Next Level?
Then attend an upcoming FREE online ComixLaunch Workshop and learn the keys to making your next launch your best launch ever!