How Gene Jimenez Overcame A Slow Start and Got His Kickstarter (Over)Funded
by Clay Adams
Gene Jimenez felt confident.
He'd done the groundwork, made a great book, prepped his audience, and now was certain his campaign for TRIBAL FORCE would fund quickly.
Then he hit launch.
After a decent first day, momentum slowed. By day 4, the pledges had run dry and he was scared.
And with a long month ahead of him, Gene wondered…
"Is Kickstarter the right place for me?"
---
In this edition of the ComixLaunch Spotlight, you'll learn:
how to grow your audience before your campaign
how to turn around a slow start on Kickstarter
plus: best practices for promoting your campaign on podcasts
---
How to Grow Your Audience Before Your Campaign
Gene started in comics in the early '90s. At the time, Image Comics had just exploded onto the scene, and independent publishers could put their books up for sale in the direct market and get orders in the 3,000 range—a number which seemed "bottom of the barrel" then, but now seems like a huge print run for indie creators.
To help navigate this new landscape, Gene joined ComixLaunch.
"The first coaching call I was on, Tyler talked about the 'Growing Your Audience' strategy and went into detail on building a mailing list, with a giveaway, etc. So the whole next year was completely dedicated to that. I went to a couple conventions and gave out stickers for people's emails. Also offered a digital copy of my first issue of DOWNTOWN. We launched with 500+ emails. And that led me to realize how much I suck as a marketer."
Gene found he didn't like sending emails if he felt he didn't have something concrete to say. As a result, his communication trickled off between campaigns, and he feels like that inactivity hurt the launch of TRIBAL FORCE. What he's trying to remind himself now is that his fans want to hear from him.
"While a free comic and sticker are nice, I know that people don't just give you their emails. Because like me, they don't want junk. BUT they do want info about what you're up to. Gotta tattoo that to my forehead and become a better communicator to our fan list that is continuing to grow, one sticker at a time if need be. It goes back to my 'do something' theory [more on that later]: if the fan that gave you their email never hears from you, they most likely aren't going to be in action when you say, 'OK, buy this.'"
But there was no time to look back. Gene had a campaign to salvage.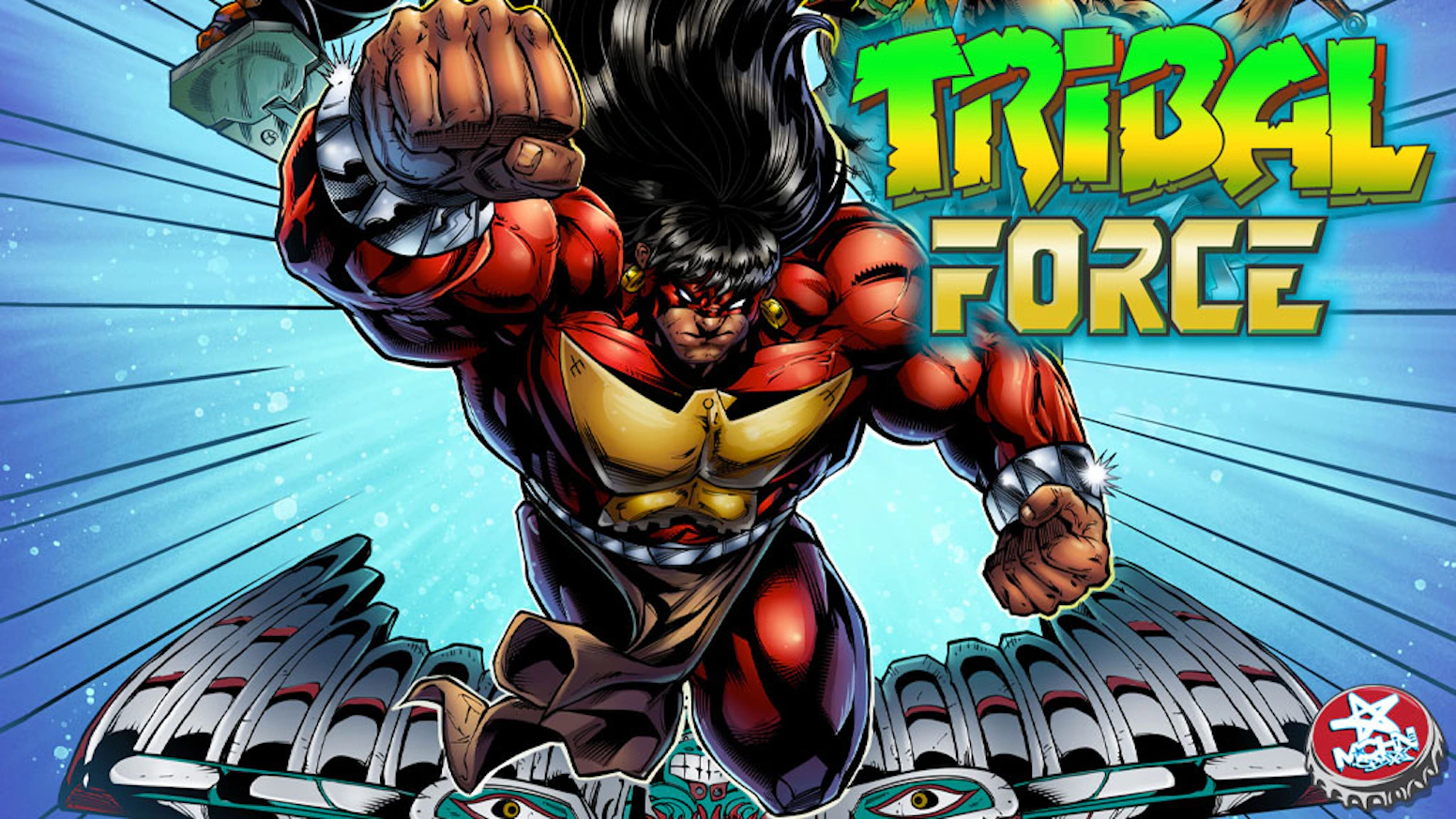 How to Turn Around a Slow Start on Kickstarter
At first, Gene was in shock.
"I honestly was under the illusion that people were just waiting around for us to launch and then we would have funded in a day or so. It was honestly a grand failure for me, which came at a good time. We did not fund until just before half our campaign was up, and I appreciated that so much more than I thought I would."
What Gene appreciated is that the slow start reaffirmed a simple principal, one that's so easy to forget during the stress and chaos of a live campaign.
"I remembered to just keep moving. So we started hitting social media and booked several appearances on podcasts, and it slowly picked up. Every day, we moved a little, and by the end of our second week, we steadily moved within sight of funding. We were dying for 24 hours, as we were $150 dollars from funding and nothing happening. So we went back to social media again, pushing here and there, and then it just happened….It was such a great lesson in making 'do something' a daily practice."
This "Do Something" mentality served them well, as it propelled their funding to the very end. Which led to another insight.
"Our 'dead-zones' seemed to be self-made, as there were actually a couple. They came about when we stood still, looking at the scoreboard, not moving. You can't play while looking at the scoreboard and expect to play well. While you're looking, you'll get your head taken off. Sure, glance at the clock, but keep your focus on playing until the game is over."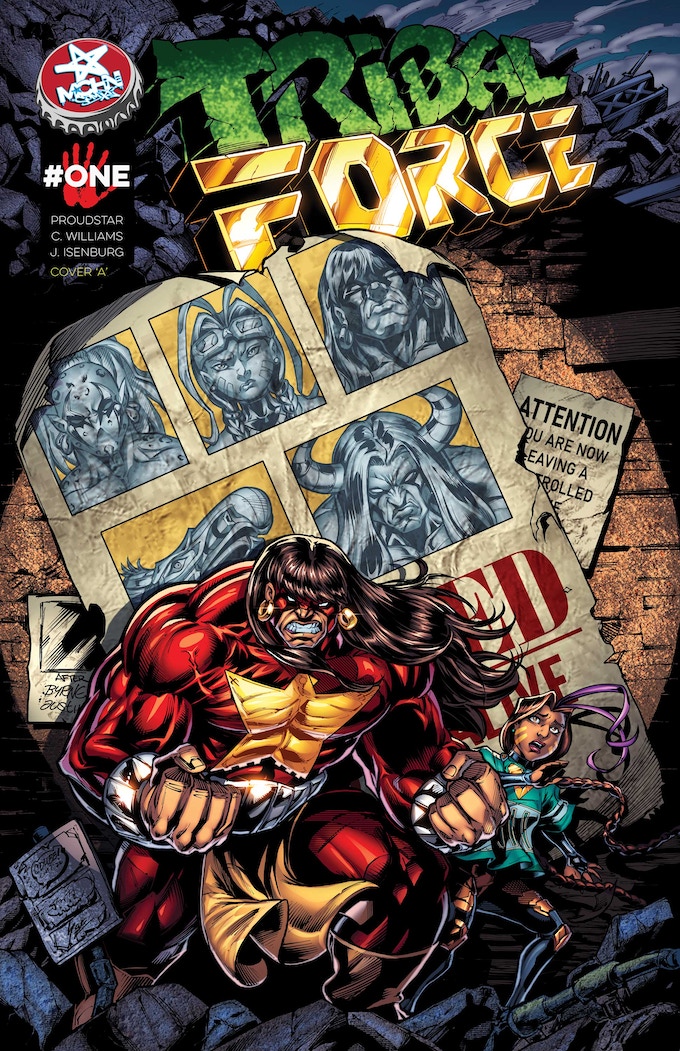 Best Practices for Promoting Your Kickstarter on Podcasts
Gene's podcast appearances weren't planned ahead of the campaign. But lucky for him and his collaborators, opportunities arose and they were quick to take advantage.
"Be open, gracious and receptive. Get used to being concise and direct with your talking points. We all have great stories to tell, but keep your topic and asks laser focused. Likewise, stay positive. We both had tons of personal and professional stuff going on and we stayed focused on the awesome fact that we were producing something amazing and making up dreams as we go along. We had and have a lot to be happy and grateful for, so we tried to let that come through."
Gene also stresses the importance of not being rigid when it comes to scheduling.
"Be flexible in your time. We had podcasters calling out of the blue and asking for odd times, and we just rolled with it. Many have called back for more episodes, so I am thankful to the new friends and allies we made by just being open."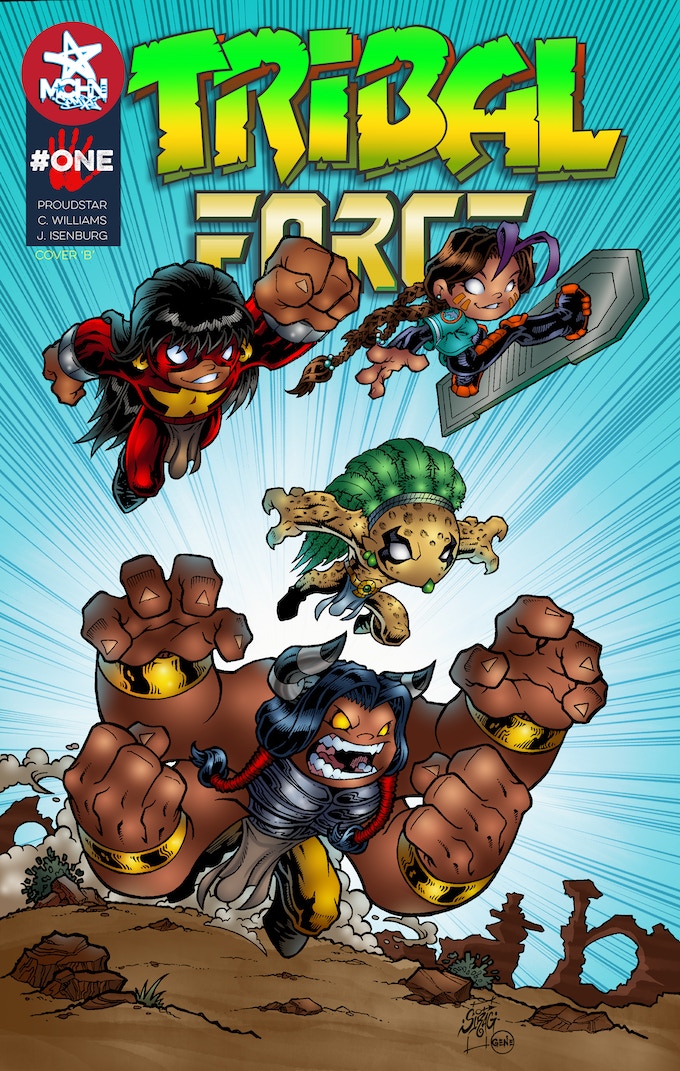 Is Kickstarter the Best Platform for Indie Creators?
The campaign for TRIBAL FORCE ended with $8,000 and 175 backers. Enough to cover production on the book and shipping, but leaving Gene feeling like they didn't reach their core audience.
"TRIBAL FORCE is the original all Native American super-hero team, yet it's not too well known in the Native American communities. Most of our backers on Kickstarters were not Native Americans. That's neither bad or good. This is actually data that shows us we have yet to get our comic, which is created, written, and produced by native/indigenous Americans, to be in front of the native/indigenous communities."
That, in fact, is one of their biggest challenges. While most of us take comic book shops for granted, they are a rarity for native/indigenous youth.
And the internet we so easily access? Reservations are sovereign lands, so America's communication companies skirted their borders when laying the cable. So now, to get basic internet in those communities, some still use dial-up modems, while others need to drive outside the reservations.
"To be honest, we aren't here to play the 'race card.' We have no reason or energy to. Our titles, stories and production can stand on their own. But this is the nature of 'target marketing' and tapping those markets resources. I know that fans I am creating my work for are in communities that were left behind when the pandemic hit. Meaning, they didn't have solid and consistent internet connections, so those youth, at times, just didn't have school. Even many of young adults and working adults in such communities don't have email, but they want our titles. So we still have a ways to go to figure out how to reach them on a regular basis, in a way that supports their ingestion of pop culture, while also supporting culture as a whole. Our biggest task at hand is letting those communities know that heroes created for them, by them, now exist."
While it may not be the best market for everyone, it's a great starting point. Kickstarter got the book made.
And now that they have books in hand, Gene and the rest of the crew can focus on finding their audience.
What's Next?
Gene plans to take the book to San Diego Comic-con before returning to, yes, Kickstarter to fund TRIBAL FORCE #2 and issues two and three of his own book, DOWNTOWN. By the end of the year, he hopes to be in production on a new book, TALES OF ELISIUM.
As for the challenges he faced during the Kickstarter, Gene has a healthy attitude.
"I believe every failure is meant to strengthen us. Some more than others. Some failures, like being in the middle of your first Kickstarter and not seeing anyone back it for 24hrs, are beyond strengthening. They let you know where you are 'standing'.
"For me, this is life itself asking me to be who I came here to be. The universe is basically saying, 'Oh, so you are a creator? OK, create! And when you fail, create a way out of it, and do that again, and again.'"
---
Connect with Gene:
Website:
Social Media:
Freebie:
---
Would You Like to Learn the Strategies Gene and Other Talented Creators are Using to Take Your Launches to the Next Level?
Then attend an upcoming FREE online ComixLaunch Workshop and learn the keys to making your next launch your best launch ever!